Ensuring we can offer a safety net for all our students - when they most need it
Supporting students
Kingston alumni have been supporting Kingston students for many years. During the pandemic, this support was needed more than ever before, as so many students faced a financial cliff edge.
 -  2,567 students received emergency hardship grants
 - 1000+ devices were loaned or purchased, and 1,015 WiFi grants made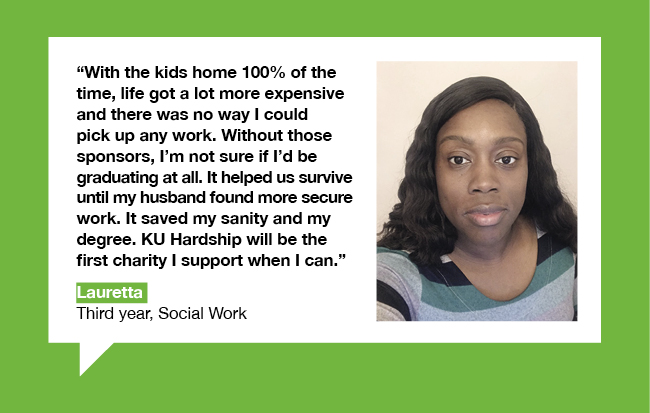 Kingston alumni ensured that Lauretta could cover her costs, support her studies and family. Thank you!
The are still real financial pressures for Kingston students and our team are working round the clock to support students in need. As well as awarding grants, we are assisting with students' mental health needs, and supporting employability as disadvantaged students graduate into an uncertain job market.
Together, we can provide the safety net that many of our students just don't have. We are proud to have a long history of welcoming people from all backgrounds to Kingston, with a particular focus on those people less likely to have the opportunity to go to University. This includes those from financially disadvantaged backgrounds, those with disabilities or caring responsibilities, and students estranged from their families or from care-experienced backgrounds.
 - 39% of our students are from families with an income of under £25,000. 
Our students are doing all they can to transform their life chances, and we don't want a lack of finances to stop them.
Where will the money go?
An average award from the Student Hardship fund is usually £1,495, which helps towards rent and changing unsuitable accommodation or meeting short terms needs and childcare costs. 
Help us succeed!
We appreciate that this is a difficult time for many people and you may not be in a position to support us. Whether or not you can give, it would be really helpful if you could share with others who may themselves choose to support us.
It is our alumni and friends who enable much of this work to happen, whether that be through financial support, mentoring or internship opportunities. Thank you!